10+ BBQ

PREMIUM BBQ SAUCE

PREMIUM SMOKERS

PREMIUM  PELLETS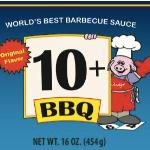 THIS SAUCE HAS  BEEN DESCRIBED AS:

BOLD, TANGY, ROBUST, COMPLEX, ZIPPY, HAS ATTITUDE, BALANCED, ASSERTIVE, 

AND IT WILL SPANK YOUR TONGUE! 

I HOPE YOU ENJOY IT AS MUCH AS OUR FRIENDS HAVE

USE IT FOR YOUR FAVORITE SMOKED MEATS AND AS A DIPPING SAUCE FOR EVERYTHING ELSE

FOR MORE INFORMATION 

CONTACT SCOTT

10plusbbq@gmail.com

 309-235-7336

ARE YOU TIRED OF BUYING BARBECUE SAUCES THAT TASTE LIKE KETCHUP WITH SOME EXTRA SUGAR ADDED?

THIS ISN'T YOUR TYPICAL GROCERY STORE FARE

IF YOU CONSIDER SALT AND PEPPER YOUR PRIMARY SEASONINGS ... 

WELL.... JUST MOVE ALONG... 

THERE'S NOTHING TO SEE HERE... 

BUT IF YOU APPRECIATE FLAVORFUL FOOD AND LIKE TO LIVE LIFE TO THE FULLEST... 

THIS IS THE SAUCE YOU'VE BEEN LOOKING FOR 

A Bold Sauce 

Made in the Quad Cities

Click Here for more 

premium products


10+ BBQ SAUCE 

Available at both QC Max Muscle stores

Max Muscle Sports Nutrition

both Quad Cities locations